Experience the Bespoke Journey. Our promise for perfection.
Every bespoke piece we create focuses on you. Here, you'll see how we make your dream jewellery piece – from design to handcrafting it to perfection.
Deciding on a budget is essential as it will help us to shortlist suitable options. There are 2 parts to consider – (i) the gemstone and (ii) the setting cost.
Setting cost starts from $1500, depending on the
complexity of your design. For example, if your
budget is $3,000, you'd have a budget of $1,500 for
your gemstone.
Three Ways to Decide on Your Ideal Gemstone
Gems Origin will shortlist premium quality gems that will fit your budget. Simply pick one that attracts you!
If you are on a hunt for a specific gem – for example, a particular shape, or colour tone, you may put in a special request for us to help source you one!
Alternatively, you could bring gems or old jewellery you already own to us, and we'd be happy to work on setting it up!
Your jewellery piece will be designed in close consultation with you.
Working around your preferences and unique gemstone, our chief designer will show you black- and-white top-view sketches of different design concepts. Winsome and timeless designs guide our design philosophy. The sky is the limit when it comes to bespoke – whatever your style is, tell us, and we will bring it to life!
Pick a design that best speaks to you.
With the presented sketches, you will choose one that attracts you most. These hand-drawn sketches will show a lifelike rendering of the final piece. We'll sketch your customised design to perfection, until we get to a design of your heart's desire.
With the top-view of a design chosen, you will be provided with the side and end views sketches. The final illustrations will be coloured to show the intricate details of your piece. Once the design is finalised, the handcrafting process begins.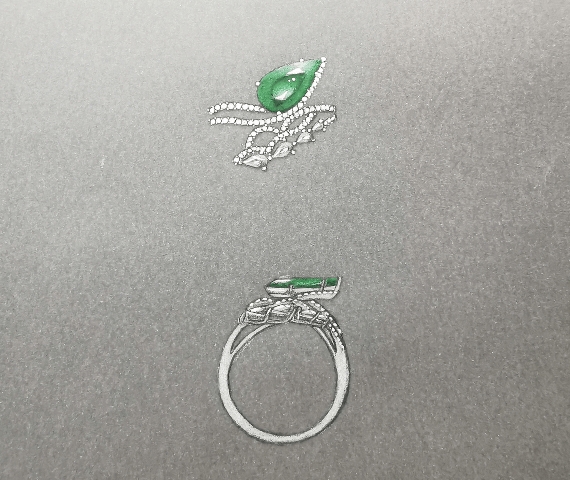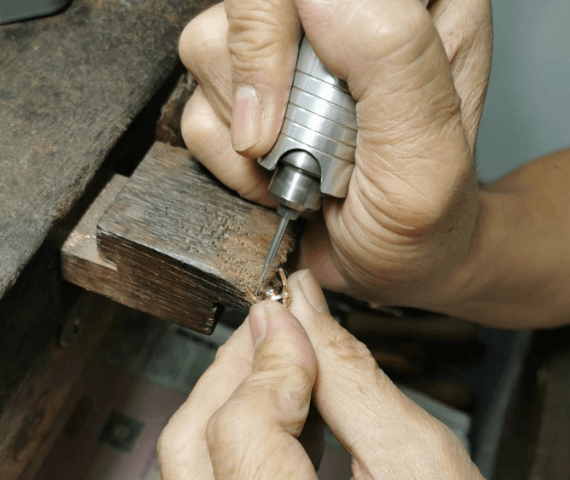 Each jewellery piece commissioned is entirely handcrafted from scratch. Our team of highly skilled artisans who have over 30years of experience will work with solid gold or platinum.
Once the jewellery piece leaves our artisans' workbench, it is ready for you. Your heirloom worthy jewels that hold sentimental stories close to your heart, will now be